Steve Charles, MD, FACS, FICS, FASRS
Steve Charles, MD, FACS, FICS, FASRS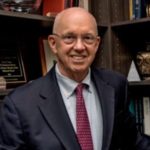 At Charles Retina Institute, you're in good hands, starting with the world-famous Dr. Steve Charles.
Steve Charles, MD has developed many of the techniques and devices used by vitreoretinal surgeons worldwide. He has performed over 38,000 vitreoretinal surgeries, lectured in 51 countries and operated in 25, delivered 18 named lectures, and well over 1000 speaking trips. He authored a leading textbook in the field which is now in the 5th edition and in 6 languages and authored over 174 articles in the medical literature and over 50 book chapters. He is a Fellow in the American College of Surgeons and International College of Surgeons and a member of the Retina Society, Macular Society, American Society of Retinal Specialists, Club Jules Gonin, American Society of Cataract and Refractive Surgery, American Academy of Ophthalmology, American-European College of Ophthalmic Surgery, Euro-Lam, and the Dowling Society. He is on the Board of Governors of the ARVO Foundation for Eye Research He is on the editorial board of Retina and a reviewer for Ophthalmology, Archives of Ophthalmology, American Journal of Ophthalmology, and British Journal of Ophthalmology. He has received the Laurate honor from the AAO, gave the Schepens lecture at the Retina Society and the Kelman lecture at the ASCRS, received the Wacker Medal from the Club Jules Gonin, the first Founders Medal from the Vitreous Society, was inducted into the University of Miami School of Medicine Medical Alumni Association Hall of Fame, and was named by Ocular Surgery News as one of the top ten innovators in the past 25 years. He is consistently listed in Best Doctors in America and Becker's Top 34 Ophthalmologists in America. He is a Clinical Professor of Ophthalmology at the University of Tennessee.
After four years in engineering school, he completed medical school at the University of Miami Leonard Miller School of Medicine. He did research all four medical school years at the Bascom Palmer Eye Institute. After a medical internship at Jackson Memorial Hospital in Miami he completed a residency at the Bascom Palmer Eye Institute followed by a two year Clinical Associate appointment at the National Eye Institute (NIH); focused on vitreoretinal surgery, angiogenesis research, and medical device engineering.
He is a mechanical and electrical engineer and has well over 100 issued or pending patents. He is a consultant for Alcon Laboratories and the principal architect of the Alcon Accurus and Alcon Constellation Vision System.
He is the Founder of MicroDexterity Systems, which developed robots for dexterity enhancement for minimally invasive knee and hip replacement, spine surgery, and skull base neurosurgery. Stryker, Inc. acquired MicroDexterity Systems, in December 2009. He is a cofounder, systems engineer, and Chairman of CamPlex Inc, developing advanced visualization technology for MIS spine, neurosurgery and trans-oral approaches to head and neck cancer.
Steve Charles is an Airline Transport Pilot, Multi-Engine, Instrument rated pilot with Type Ratings in Citation 500, 560, 650, Falcon 50and Sabre 65 jets and currently owns and flies a Sabre 65.
Dr Charles has three daughters and four grandchildren. The oldest daughter is a gyn surgeon, the middle daughter is a family physician and the youngest is a team building/ropes course/climbing wall/zipline expert.