Philip Ames, MD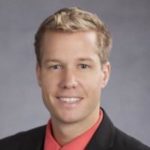 Dr. Philip Ames grew up in Sarasota, Florida where he attended a magnet high school and was a co-founder and later captain of his crew team, Sarasota Crew, which is now the top team in the United States.
He went on to graduate from the University of Miami with a double degree in Chemistry and Biology, and a minor in Psychology. He then attended the University of Miami Miller School of Medicine where he did research in targeted delivery of genetic vaccinations and completed his medical training. Afterwards, Dr. Ames attended University of Florida Ophthalmology Residency where he completed his training in comprehensive ophthalmology.
Dr. Ames moved to Memphis to work at the world-renowned Charles Retina Institute and further his work in vitreoretinal surgery. He brings with him his beautiful wife, Veronika, who is an audit manager with Deloitte & Touche, as well as their various adorable pets. They hope to grow their family further in Memphis.