Paul Runge, MD, FACS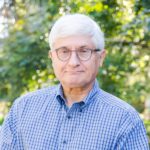 Dr. Runge was born in Milwaukee, WI. During his sophomore year of high school his parents moved the family to Huntington Beach, CA where he completed his bachelors and masters degrees at the University of California, Irvine in molecular biology and immunology.
He undertook his medical studies at Flinders University in Adelaide South Australia in 1979 followed by a general pediatric residency at the Hospital for Sick Children in Toronto, Canada. His pediatric training was completed at the University of California, San Diego.
Dr. Runge is board certified in general pediatrics.
His eye training began at the Hospital for Sick Children, Great Ormond Street, London, England in pediatric ophthalmology. He also initiated his general ophthalmology training while in London. Dr. Runge completed his general ophthalmology training at the Cook County Hospital in Chicago.
Dr. Runge is board certified in ophthalmology.
He next undertook a year of specialty medical retinal training at UCLA with Professor John Heckenlively and a year and a half of surgical retinal training with Steve Charles in Memphis, TN.
Dr. Runge next settled into private retinal practice in Sarasota, FL where he has been for twenty-three years. Until very recently he taught resident physicians at the University of South Florida, Tampa where he received six annual teaching awards and a lifetime achievement teaching award. He also looked after premature infants at the Sarasota Memorial Hospital where no baby under his care has ever become blind.
He now returns to the Charles Retina Institute in Memphis where he is looking forward to seeing and treating patients, premature infants and continue to teach doctors in training.
Dr. Runge has been married to Cheryl for thirty-three years. They have two children who were adopted in Memphis, Sarah 28 and Megan 25 and one grandchild, Noah 2.