Cornelius Regan, MD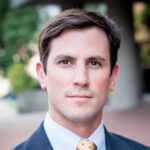 Cornelius "Neil" E. Regan Jr. MD joins the Charles Retina Institute as a vitreoretinal surgery fellow. Born and raised in New Orleans, Louisiana, Dr. Regan then moved to Gainesville, Florida to pursue undergraduate studies at the University of Florida, where he obtained a Bachelor of Science degree in zoology.
He returned to New Orleans to work at the Neuroscience Center at LSUHSC where he worked in various labs researching neurological and ophthalmological diseases focusing on disorders of the retina. Afterwards, he earned his medical degree at the Louisiana State University Medical School in New Orleans. Post-graduate training consisted of an internship in general surgery at Stanford University in Palo Alto, Ca and a residency in ophthalmology at Louisiana State University in New Orleans.
Dr. Regan is excited to move to Memphis for the opportunity to work and learn under Dr. Charles. He is also an avid outdoorsman and enjoys spending time in nature with family and friends.